With new COVID restrictions for family gatherings in many states, including Michigan, along with CDC guidelines for Thanksgiving celebrations, you may be finding yourself with a last-minute change of plans for the holiday.  Perhaps you are now stuck with the intimidating task of cooking your first Thanksgiving dinner on your own.  If that is the case, don't panic.  Here are a few tips to help keep you on track for a tasty and stress-free meal.
Make a detailed menu, shopping list, and schedule.  It's ideal to make your menu and lists at least a week before Thanksgiving so that you can plan out your shopping trip(s).  Many people prefer to make 2 separate grocery store runs so they don't have that pressure of making sure they don't forget anything, which always seems to happen!  Shop for non-perishable foods like any canned veggies, stuffing mixes, gravy, dried or fresh cranberries, veggies with a longer shelf life such as potatoes or squash.  You can now also grab your frozen items, including your turkey, cool whip, frozen veggies, etc.  Note that a frozen turkey takes several days to thaw in the fridge, so be sure to plan accordingly!  Figure 1 day for every 4 lbs. Then a day or two before Thanksgiving, go back to the store for your perishable items (such as fresh veggies, rolls, pies, etc.).  A day or two before Thanksgiving, sit down and review your schedule, making sure to schedule in time to shower, set the table, and time that each dish should go into the oven.
Do as much as you can ahead of time.  Even if you have a plan in place, it can still be very stressful as you get down to the wire and you are trying to time multiple dishes and cooking temperatures.  Embrace make-ahead recipes!  Pumpkin pies can be made a couple days ahead of time and stored in the fridge, along with cranberry sauce.  Fruit pies are better made the night before so that the crust stays firm.  Mashed potatoes taste great reheated, and are a convenient dish to have out of the way.  They can even be reheated in a crockpot to free up space in your oven.  Some people even cook their turkey the day before!  Of course, by doing that you will miss out on the presentation of a lovely-cooked bird on the center of the table.  But if this year's smaller group of people can do without seeing it displayed, it can be a huge stress-reliver to get it cooked ahead of time.  Cook the turkey, carve it, then on Thanksgiving place it in a crockpot with a coil of tinfoil to elevate the meat.  You can then use the bones to make a stock for your gravy and use some in the bottom of the crockpot when you reheat the meat.
Appetizers.  No need to go overboard with these, but setting out a few munchies and some wine/cocktails will buy you some time in case dinner falls a little behind schedule. You definitely won't want everyone crowding you complaining about how hungry they are when you are trying to get it all out of the oven and onto the table!
Stick to the classics.  Thanksgiving Day is not the time to experiment with new recipes!  If you are having guests over, they will be expecting and looking forward to classic dishes.  You also don't need the added stress of an unfamiliar recipe not working out the way you planned.
Shortcuts are totally acceptable!  Not everything needs to be made from scratch!  Canned pumpkin such as Libby's brand is in most people's opinion, just as good as homemade pumpkin puree.  Boxed stuffing can be jazzed up if you like, and it will save you lots of time not having to worry about making croutons. Using pre-made pie crusts is another huge time-saver, or just skip the baking and serve store-bought pies and desserts.  Use a bagged salad so you aren't cleaning and chopping lettuce at the last minute.  You can even shop your grocery store's salad bar for pre-chopped salad fixin's!  And don't feel you have to go it alone.  If you are having a family member or two over for dinner and they offer to bring something, by all means, take them up on the offer!
Make sure you have the right tools.  If it is your first time making Thanksgiving dinner, you may need to purchase a few utensils, pans, etc.  You will be needing a large roasting pan for the turkey (or how about a deep fryer?!), pie pans, casserole dishes, serving spoons, a meat thermometer, and turkey baster.  Most grocery stores sell disposable aluminum turkey pans as well as casserole-sized versions, so if you do not cook that often, that may be a more budget-friendly route to go this year.
Try to relax and enjoy the day.  Hopefully you will have enough things prepped ahead of time for your meal that you can focus on spending time with your family and guests.  And after all of your hard work, sit down and let someone else tackle the dishes!!!
Here is a great cheat sheet from delish.com!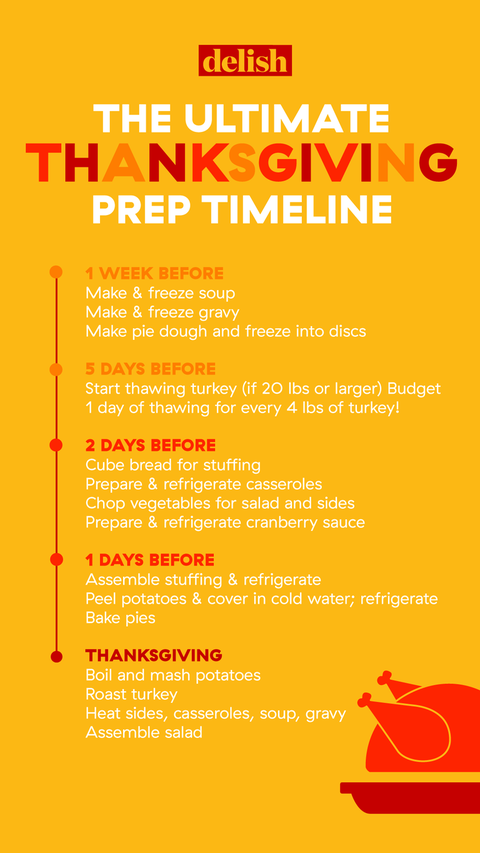 Happy Thanksgiving!